Dropping a Horn

Aug 31, 2019
By: Jerry A. Goodson
In: General
Last night was... eventful. It was our first ballgame of the season. For most of our freshman, it was their first time to step on the field as a member of the Big Bad Band from Rabbitland!
For me, it kicked off my favorite time of the year... HIGH SCHOOL FOOTBALL SEASON! Atlanta lost to Gilmer, which was a bummer, but our band performed well!
Our bass trombone is also a football player, and he didn't perform during half-time. Bad for the band, but good for me! Why? Because before half-time, I dropped that brand new bass trombone and bent the bell!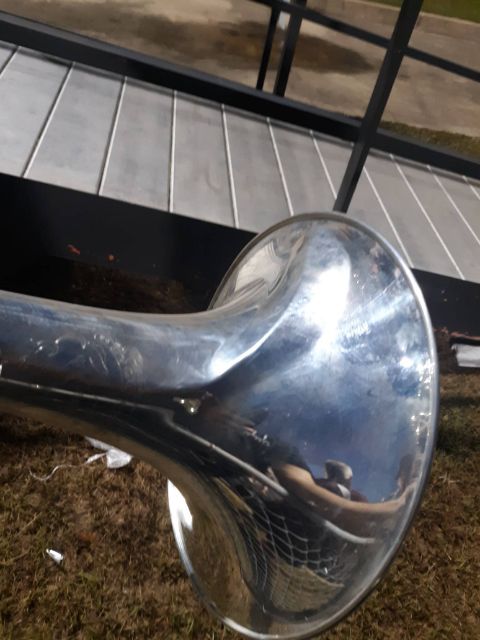 The worst part about it was doing it right in front of Mr. B... the legendary Mr. B! Mr. B, who tried getting our director of bands to order this horn for several years. Mr. B, who was my assistant band director when I was in high school. Mr. B, who has had all three of my boys in band. Mr. B, who performs professionally. THE Mr. B!
Kids have damaged horns. Hey, it happens. This wasn't one of the "junk" Mercedes marching baritones. This wasn't an old sousaphone that I played in high school over 25 years ago. This wasn't a kid. This was a brand new bass trombone. Last night, #ThisGuy became #ThatGuy!
BUT! I know a guy! Actually, Mr. B knows a guy, and because Mr. B knows a guy, I know a guy. If I couldn't get it fixed, I told Mr. B I would replace it... over $5,000 worth of horn, but I would make it right. When I woke up this morning, I was fully expecting to own this horn.
I snapped the picture above last night at the game and sent it to Jim Sinkule of Tooter's in Hughes Springs. I asked if I could bring it to him this morning. He didn't respond until this morning, but all he said was, "Yes."
I got dressed and headed to Hughes Springs. Kyle Wayne has been bugging me to taking him to Tooter's for a while, so today was the day for him!
When we got there, Jim wasn't there. I finally got to meet John. John does all of the brass work for Jim. I've heard Jim talk about him several times, but he was never in the shop when I visited. I showed him the damage. He got right to work!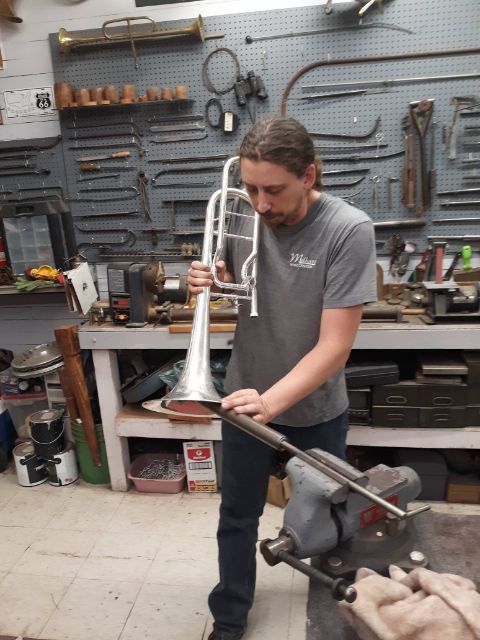 He picked out the tool he needed and rolled out my sin against brass in short order! He's got a real good eye, too, since he rolled out a ding that had nothing to do with what I did to the horn. Nobody had seen it before he picked it out.
It took him about five minutes of rolling out the damage, and another five minutes buffing out the tool marks. The finished product was gorgeous!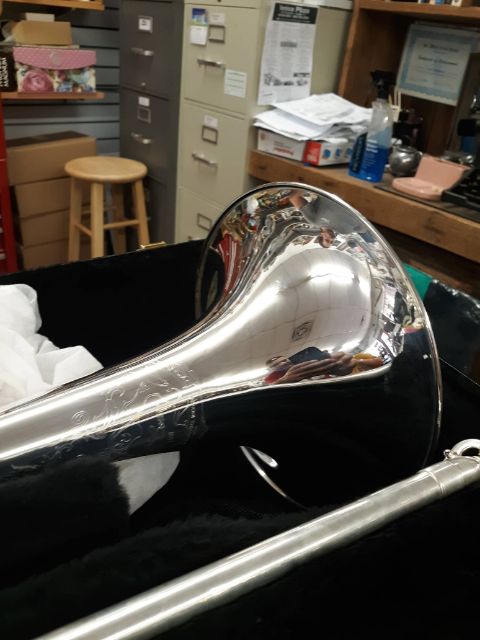 I certainly didn't expect it to go as quickly as it did. When I brought the horn it, I fully expected to drop it off and pick it up sometime later in the week. John told me this was his favorite thing to do, and appreciated the "break" as he pointed to a tuba he had to fix... and not by rolling out a dented bell, but rather replacing the mouthpiece tube that completely separated from the horn.
He didn't even want to charge me! I insisted on paying him. His knowledge, speed, and craftsmanship was fully worth whatever price he'd charge me to redeem myself from the grimaced face Mr. B made when I damaged the horn. He charged me more than he wanted to, but not nearly as much as I wanted to pay.
If you're ever in Hughes Springs, or if you're looking for an outstanding music shop, stop by Tooter's! If you're on facebook, visit their facebook page by clicking below, and give them a "like"!
Tooter's Band Instrument Repair and Sales on facebook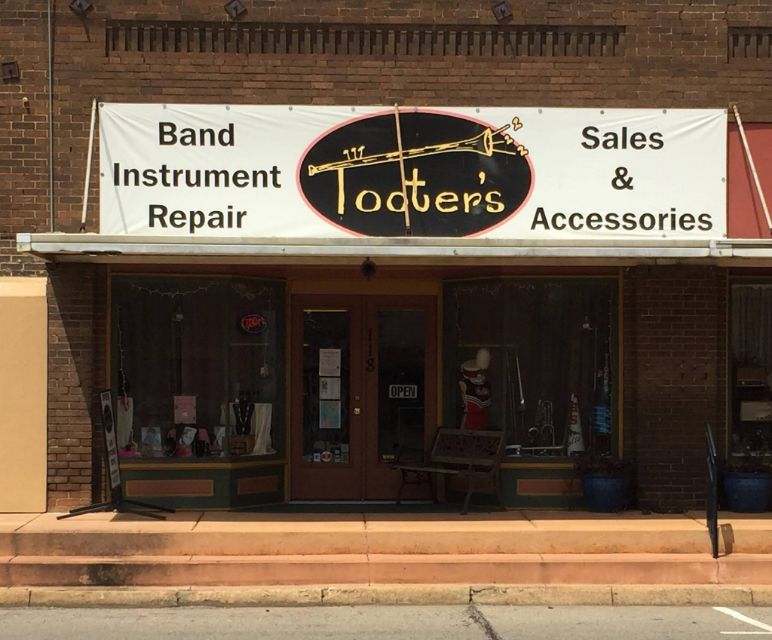 ---